The right target site for every device
There are many smartphones on the market offered by different manufacturers (Apple, Samsung, Nokia, Sony Ericsson, etc.) To ensure that your customers can always see an optimized target in their smartphone, it is necessary to define different objectives for different manufacturers. This is because the Apple view is different from the Nokia view.
Besides, if you want to use your new smartphone app with your QR code, conditional link targets are essential: this is the only way you can direct an Apple user to the Apple App Store and an Android user to the Android App Market without the need to use various QR codes.
Regional Pages
Technical requirements do not exclusively impact the link target. Regional sites may also contain different information.
This is essential, for example, if you are planning a campaign with regional disparities: One version of the advertisement on "Hamburger Platt", one on "Kölsch" and another with "Berlin snout", then you can create a single QR code from QRtool.de that, depending on the location of the user, intelligently forwards the user to the matching version. This way you can create different target pages for almost any country and any city.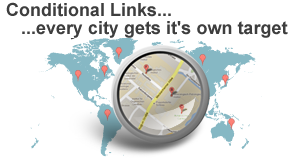 Campaign extras feature overview is loaded